Escape to the Colorful and Exotic Streets of Istanbul: Street Photography 101 Workshop with Eric Kim, Charlie Kirk, and Andrew Kochanowski
INTERESTED IN DISCOVERING ISTANBUL AND DOCUMENTING IT WITH UNFORGETTABLE PHOTOS?

Ask yourself the following questions:
Have you been cooped up behind the desk for too long?
Has it been too long since you had a nice vacation?
Do you love photography and travel?
Do you want to walk the streets in a foreign land and have the confidence to capture images of people and places you only see in guide books and on TV?
Do you want to meet other street photographers that are as equally passionate about street and travel photography who are interested in learning like you?
If you answered "yes" to any of the above questions, I am excited to announce my upcoming street photography workshop in Istanbul. Imagine the dusty roads with the soft golden light peeking through the sky, the colorful bazaars, the lively sounds of the friendly people and music in the streets, and the beautiful mosques covering the skyline. For those of who have never visited Istanbul, it is quite unlike any place you have ever been to—and one of the best places to shoot street photography in the world.
For this unique workshop, I will be having street photographers Charlie Kirk and Andy Kochanowski as my co-teachers. This will be an incredibly interactive, comprehensive, and hands-on workshop which will be a strong primer to anyone interested in street photography or wanting to improve their current skills, no matter their current skill level.
Overview of Workshop
(Eminonu Square in Istanbul)
This workshop will give you the opportunity to learn more about how to build more courage when shooting on the streets, as well as what makes a great street photograph. With tons of hands-on guidance we will learn how to get close to our subjects and be given certain assignments when shooting on the streets. All participants will also have the opportunity to get their portfolio critiqued and commented on by all the instructors at the workshop.
Istanbul is one of the places you must travel to before you die so why not go and shoot some street photography with equally passionate individuals while experiencing some of the culture?
The emphasis of the workshop will be on practical instruction on the streets of Istanbul.  You will receive hands-on instruction and guidance from myself and special co-teachers Charlie Kirk, and Andy Kochanowski throughout the three full days. You will get useful tips from three experienced street photographers with very different shooting and creative styles. Furthermore there will be classroom lectures as well as opportunities to share your work, and get constructive criticism & feedback from us.
During the workshop you will not only get the chance to shoot street photography, but you will do so in an environment that is unfamiliar to you. By focusing exclusively on shooting for the first two days, you will not only capture images you can be proud of, but also interact with the people of Istanbul; you will be able to get a glimpse into the daily lives of the near 14 million people who live there.
Workshop Syllabus
(Lanterns in Istanbul Grand Bazaar)
Below is a list of subjects we will be covering during the workshop:
How to get over the fear of shooting street photography in foreign places
How to best approach your subjects without scaring them
How to shoot candid images without anybody noticing you
How to tell a story with your photos
The best technical settings to use in street photography
How to communicate cross-culturally and to react to people who get offended by street photography
How to capture "The Decisive Moment"
What techniques for taking great street photographs
How to create memorable and timeless images from your trip and apply everything you've learned to future adventures.
Personal feedback & critique on your work and how to improve.
What we will cover

(Colorful storefronts in Istanbul)
The first two days of the workshop will be spent shooting on the streets of Istanbul, where you will have the opportunity to learn through hands on instruction from myself, Charlie Kirk, and Andy Kochanowski. Charlie Kirk is currently in Istanbul discovering and noting the best places to shoot at specific times of the day. The workshop group will get to shoot at the best locations ideal for street photography; the light is simply 'perfect'.
We will be there to offer you guidance on a special unique street photography assignment. Not only will you learn how to shoot on the streets with more confidence, you will also learn how to choose your best work and post-process your images via Lightroom 4 and how to create beautiful black and white images with Silver Efex Pro 2.
Your best images will be shared with the group and open for critique.  Charlie, Andy, and I will lead the discussion, but everyone offers their input as well. Although street photography can be intimidating, especially in a foreign place, this workshop will teach you the practical skills on how to become more courageous and bold. You will learn how to capture "the beauty in the mundane" through candid images of people in their ordinary environments and apply these techniques back home or in any other situation.
Street photography is a wonderful craft, and this workshop will be helpful for those who want improve their street photography and experience another culture!
What you will get out of this workshop

After attending this workshop, you will build your confidence shooting in the streets, learn how to get closer to people, as well as better discover your own style & vision in street photography. Furthermore, you will be able to get hands-on feedback and critique from us to further improve and take your street photography to the next level. Lastly, you will be able to share your passion of street photography by meeting others equally as passionate as yourself.
Travel & Accommodation
(Suleyman Mosque in Istanbul)
Travel and accommodation will not be provided for this workshop, however if you need assistance finding an affordable flight and room to stay, we can assist you. Please contact Neil Ta (neil.ta@erickimphotography.com) for assistance.
Behind-the-Scenes Video
To get a sense of how it is like getting hands-on instruction when shooting on the streets, watch the video of my street photography workshop in London with Charlie Kirk.
WORKSHOP TIME AND FEE
Dates: August 17-19th, 2012
Time: 9:30am-6pm (both days)
Workshop Fee: $1500 USD ($995 USD Early-bird discount before July 31st).
Workshop cap: 20 participants
Location: TBA
Level: Beginner to Advanced
Contact : Neil Ta at neil.ta@erickimphotography.com
REGISTER NOW!
If you would like to register click the button below. If you have any questions, please email my workshop manager Neil Ta at neil.ta@erickimphotography.com After you register, we will send you an email regarding the deposit and payment options.
Register soon, spots are running out!
Instructor Biographies
Eric Kim
Based in the urban streets of Los Angeles, Eric Kim is a street photographer who captures thought-provoking candid images of individuals juxtaposed against their natural surroundings.  He brings an academic background in Sociology to his passion for photography, emphasizing social interaction as the signature style in his work, illuminating humanity with a flash and small camera.
Eric runs the hugely popular Eric Kim Street Photography Blog which teaches avid photographers to build up courage, learn the tools, and develop their own unique vision to make great street photographs.  He is currently working on a street photography book and has taught workshops all over the world including in San Francisco, Los Angeles, Chicago, Toronto, Lebanon, the UK, Switzerland, India, Malaysia, Singapore, and Tokyo.
You can see Eric's work on his website.
Portfolio
Charlie Kirk
Charlie Kirk is a street photographer who has lived in Japan for the last decade, where he took most of shots. He shoots in public and has a penchant for beautiful girls, umbrellas, drunk people, and mirrors. He has had his photos exhibited at the Format Festival Derby and FOAM Netherlands, and is one of the founding members of Burn My Eye.
You can see more of Charlie's Work on his Flickr or watch his documentary.
Portfolio
Andy Kochanowski is a photographer based in Detroit, USA. His street photography has been published in various magazines, and has been shown in Detroit and elsewhere. Andrew is currently a member in street photography collectives Burn My Eye and Un-Posed. Andy specializes in capturing street photography in color.
You can see more of Andy's work on his Flickr.
Portfolio



Past Street Photography Workshops

Beirut, Lebanon Street Photography Workshop Participants

Zurich, Switzerland Street Photography Workshop Participants
Stay updated with upcoming workshops
Brighton, UK Street Photography Workshop Participants
Hollywood, Los Angeles Street Photography Participants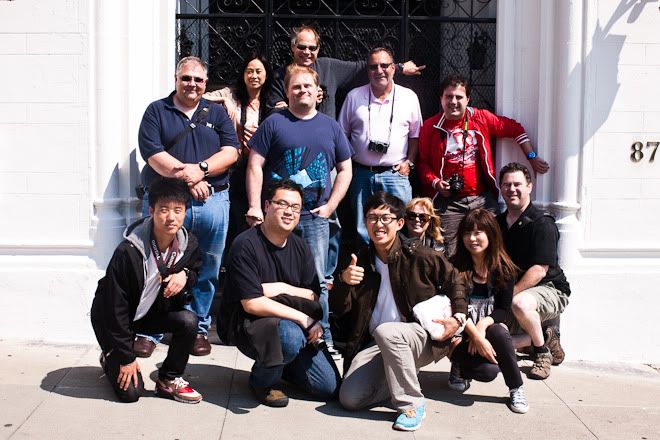 San Francisco Introductory Street Photography Workshop Participants
Chicago Introductory Street Photography Workshop with Jason Martini
San Diego Intermediate Street Photography Workshop Participants
Los Angeles Introduction to Street Photography Workshop Participants
Toronto Introduction to Street Photography Workshop Participants 
Mumbai, India Introduction to Street Photography Workshop (Group 1)
Mumbai, India Introduction to Street Photography Workshop (Group 2)
Mumbai, India Introduction to Street Photography Workshop (Group 3)
Kota Kinabalu Introduction to Street Photography Workshop 
Singapore Intermediate Street Photography Workshop with Danny Santos 
Korea Introduction to Street Photography Workshop with Josh White (sponsored by Leica Camera Korea)
Downtown LA Intermediate Street Photography Workshop 
Hong Kong Introduction to Street Photography Workshop with Gary Tyson from F8 Photography
Introduction to Street Photography Workshop in Kuala Lumpur with Leica Store Malaysia
London Introduction to Street Photography Workshop with Charlie Kirk
Melbourne Street Photography Workshop with Misho Baranovic sponsored by Michaels Camera
Sydney Advanced Street Photography Workshop
Berlin Introduction to Street Photography Workshop 
Amsterdam Introduction to Street Photography Workshop with Thomas Leuthard
Testimonials
"Eric Kim is a great teacher, his passion for street photography is truly infectious. I mean this in the most literal way possible.  This workshop has really pushed me to shoot more often and more consistently.  I thoroughly enjoyed his workshop, I learned so much, met great people and really had a chance to sharpen my teeth as a photographer.  I recommend this workshop to anyone even slightly interested in street photography.  He will challenge you and will take better shots."
- Jordan Dunn (Los Angeles) and best-of-show for "YOU ARE HERE" street photography exhibition with ThinkTank Gallery and Leica
"This workshop really boosted my confidence while shooting on the street. It made me think more about how to compose a photo and what to look for in my photos when editing and post-processing. It was awesome learning from not one but two of my street photography idols, Eric Kim and Jason Martini! Don't forget to not hesitate and killers shoot twice! Thanks Eric!"
- Alex Crossland (Chicago)
"I am intermediate photographer who has recently discovered the joy of street photography. Attending Eric Kim's beginning street photography course was a great experience. Eric Kim is an instructor who is truly passionate about his craft and thoroughly enjoys sharing the art of street photography with others.
In the workshop I was able to get a good grasp of what street photography is all about and over come much of the fear that comes with photographing people you don't know while in an urban environment. 
This is the kind of instruction you just can't get in a book!"
-Bob Chambers (Chicago)
"Eric's enthusiasm is infectious; he is also brilliant!  His dedication to promoting and developing street photography as a genre is remarkable. Thank you Eric!"
- Animesh Ray (San Diego)
"Attending the street photography workshop was a real eye opener for me. I feel like what I learned in the Street Photography workshop is going to affect the way I take pictures in general now and is not just limited to "Street Photography". Eric also made me think more about composition and how important that is. I look forward to attending another workshop in the future."
- Dennis Wetzel (Los Angeles)
"Eric is very knowledgeable and giving with that knowledge. There's no ego or sense of competition … Its all about sharing information, sharing his experiences and letting you know how he does things and what works for him. I got a lot out of the workshop. I love some of the images produced both mine and my fellow workshopers. My true testimonial? If I had it to do again, I'd do it in a second!"
- Greg Jacobs (Los Angeles)
"I love the small group experience. Especially because we had a really cool group of people. Nobody acted like they were the king/queen of photography and we all had a common goal. Eric also let us speak a great deal and that kept things fresh. Also having Rinzi with the group, who had been a part of previous workshops, showed that Eric is legit and knows his stuff. Another plus to that was having another voice to guide us. Shooting with Eric the first day really got the confidence going. I really fed off his energy and style. The second day when we split into groups, I still felt that I could shoot with little hesitation."
-Brian Quisido (Los Angeles)
"I haven't touched my camera in years. I am a beginner. If there were a category for SUPER beginners, I would dominate. When my friend told me about this workshop, I was instantly intrigued. You see, I have tons of friends who are into photography and who are professional photographers. How did they all differentiate themselves from one another? I felt street photography did exactly that and I was hooked. 
When I arrived at the workshop, I was surrounded by well…technical people. People who knew their stuff and I kind of got lost in it all. However, these people became a kind and supportive group. Not only were they technical, they were creative and passionate. At least, I can relate to that right?
The workshop consisted of a lot of educating – in slideshows, discussions and guest speakers. Many of us wanted to shoot right away but Eric was right. We needed this foundation and knowledge to fuel our street photography drive and skills. At the end of each day, everyone was ready to take on the streets.  You experience a lot during those hours of walking and shooting on the streets of Downtown L.A. You learn how to read and gauge people's body language. You learn how to be direct with complete strangers. You build your own self-confidence. Ultimately, you appreciate the art of street photography.
I highly recommend these workshops. Like I said, there are a lot of photographers out there. What better way to differentiate yourself than to capture the rawness and emotions of street photography. It will cost you a pretty penny but can you really put a price on passion?
- Jennifer Cruz (Los Angeles)
Eric Kim Street Photography Workshop is a unique and challenging photography learning experience. Make no mistake, Eric is extremely passionate about teaching as he is about street photography. Interesting examples from the masters like HCB, Eric lectures not only about lines, composition, color and technical semantics, but takes you further into these great minds. How to make the mundane into an aesthetic piece of art. Walking the streets with Eric is a sight to behold, how he is able to get into personal spaces with spectacular results. Eric is able to build his students confidence in a way that cannot be easily explained. Certainly the best thing about this workshop are the quality of people you will meet and bond with during these 2 short days. People who are as passionate and interested in photography as you are willing to help and offer support. If you're looking to challenge yourself and push your photography skills and experience further, I highly recommend Eric's workshop.
David Patrick Valera (Los Angeles) Cinematic Artist/Dreamworks Animation
[Read all of my testimonials here]
Reviews of my Past Workshops
Charlie Kirk
Takeshi Garcia
Ibarionex Perello
Nannette Ricaforte
Elizabeth Wang Lee
Brian Quisido
Greg Jacobs
Les Faber
Neil Ta
Siri Thompson
Mayank Pandey
Jonathan Van Wunnik
Christopher Lee
Nicholas Susatyo
Todd Hatakeyama
Street Photography Workshop Videos
Behind-the-scenes from my Berlin Introduction to Street Photography Workshop
Shooting the Streets of Amsterdam
Behind-the-scenes from my Kuala Lumpur Street Photography Workshop
Some GoPro footage of my workshop students shooting on the streets of Kuala Lumpur, Malaysia in a workshop sponsored by the Leica Store Malaysia. See how friendly people are on the streets!
Behind-the-scenes from my Chicago Street Photography Workshop
A fun clip showing the highlights from my past street photography workshop with Jason Martini. See the Chicago Day 1 Recap and the Chicago Day 2 Recap.
Student Street Photographs
All of the photographs below were taken by the students at my street photography workshops. Click each image to see the full album!
REGISTER NOW!
If you would like to register click the button below. If you have any questions, please email Neil Ta at neil.ta@erickimphotography.com
After you register, we will send you an email regarding the deposit and payment options.
Register soon, spots are running out!
"Like" me on Facebook!